Form and Function: 4 Types of Concrete Forms Available at Channel Lumber.
November 27, 2017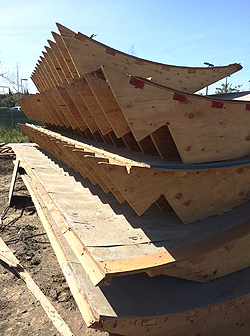 At Channel Lumber we specialize in concrete forms. We can meet the specifications of nearly any project large or small. There are several types of concrete forms we carry, and here is a description of the primary ones.
BBOES: BBOES is concrete forming plywood made from Fir trees. It is a popular and widely used solution for concrete forming. It is a stable, high strength 7 ply Fir veneer. The outside layers are B grade, and are sanded providing for a smooth finish on the concrete. Furthermore, the wood is oiled which makes it easier to separate from the concrete. It is reusable and has a long life span. BBOES typically comes in a standard ¾"x4x8 format.
Medium Density Overlay (MDO): MDO concrete forming plywood provides the builder with the option to choose the outside layer of the plywood, thus affecting the finish on the solid concrete. Typically the three outside layers would be Standard (best finish), High Mask (better), and High Resin (good). Aside from appearance, each finish offers other characteristics, for instance High Resin is the most durable. The panel faces are coated for for better separation from the concrete, and the edges are sealed to prevent moisture from seeping in and delaminating the plywood. MDO forming plywood comes in a variety of sizes and thicknesses.
High Density Overlay (HDO): HDO is a great option when a smooth or gloss concrete finish is desired. HDO plywood has minimal grain telegraphing, and offers the highest standard of quality assurance. If handled and cared for properly, HDOs can withstand 10 or more pours, which can make it a cost effective product.
Finland Form: Finland Form refers to a category of Birch Plywood, typically from Finland or Russia. Finland form is smooth, strong, durable, and performs well in a variety of applications. Finland Form comes is sanded smooth as a standard feature, and also can be ordered with a variety of overlays for desired concrete finishes. It is lightweight, relatively easy to machine, and custom sizing is available.
Channel Lumber is an industry leading supplier of concrete forms. Please
contact
Channel Lumber for all your concrete forming needs.