Making the Grade
January 22, 2018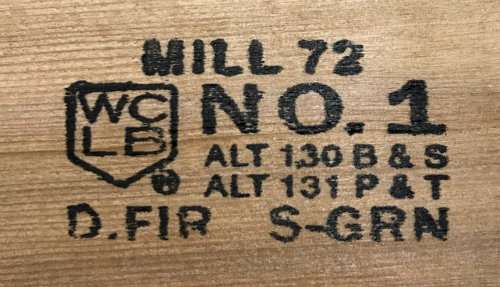 Because wood is an organic product, a wide variety of factors can affect the usability, structure, look, and strength of a given harvest. Even within a species of tree, great variations can exist. This is why lumber grading exists. Lumber grading is the process of assessing the quality and characteristic of the lumber. This way both the producer of the dimensional lumber and the builder can agree on what the product is and how it can be used. To insure the highest level of consumer trust, and professional consistency, Channel Lumber employs the West Coast Lumber Inspection Bureau (WCLIB) to inspect and randomly pull grades to insure that Channel Lumber is shipping ongrade products.
What are the specific grades for lumber? This is a complex question, given the different species of lumber, and the diverse milled products on the market, but let's try to simplify. Hardwoods and softwoods have different rating system. We will only be talking about softwoods here, as these are most common in general construction. The rules for grading softwood are written by the American Lumber Standard Committee. The rules vary regionally to address local conditions of logging, etc. Softwoods are generally graded into three categories:
Appearance (wood that will be seen, like flooring and siding).
Factory and Shop Grades (wood for remanufactured products like doors, and window frames).
Structural (graded from strength. Appearance is secondary or non-consideration).
For more information about our mill work, products or services, please contact us.