Golden Gate Green
November 13, 2018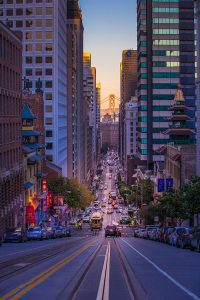 In a series of independent studies, San Francisco has consistently earned top marks for being environmentally friendly, ranking in the top three (with Portland and Seattle), often taking the the top spot. Being eco-conscious can be difficult to define, and depending on who is conducting the study the parameters may vary.
One key factor is per capita public transit ridership. New York City ranks #1, with San Francisco coming in at #2. Addiotionally San Francisco ranks very high for bike ridership with nearly 50,000 weekday commuters riding bikes. In 2017, 14 miles of bikeways were added or upgraded. For recycling and carbon footprint, San Francisco again ranked in the top three along with Seattle and Portland. In this category San Francisco edged out the other contenders due to voter awareness. San Franciscan's routinely vote for aggressive green programs and renewable energy programs.
San Francisco diverts 70% of its waste due to mandatory recycling and composting. In the sustainable food category San Francisco again earned top ranking. With the farm to table movement, veganism, and grocery stores which feature and support sustainable practices, San Francisco has become known as an epicenter for healthy dining options. With its green and open spaces, myriad hiking and biking trails and coastline, San Francisco is a great place to be green.