Carquinez Bridge
October 23, 2017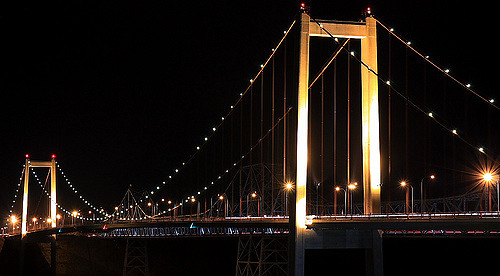 The Carquinez Bridge which spans the Carquinez Strait between Vallejo and Crocket is actually two bridges. The eastbound span is a cantilever bridge completed in 1958. The westbound span is a suspension bridge completed in 2003, with Channel Lumber providing products and services throughout various phases of its construction.
The original Carquinez bridge was built in 1927, and provided for three lanes of traffic. This was the first major structure built for crossing the bay. Prior to the bridge, Carquinez Strait was navigated via ferry service six miles from the current bridge crossing.
After the Loma Prieta earthquake in 1989, the 1927 span of the bridge was surveyed and deemed no longer safe for passage. At that time traffic was consolidated on the 1958 cantilever span, while the original bridge was demolished. The new Carquinez Bridge is outfitted with 33 wireless "nodes" which collect and transmit data about the structure.
This allows engineers to monitor the bridge closely, and undertake any needed repairs efficiently. The bridge currently operates 8 lanes handling 100,000 cars per day. Contact Channel Lumber for more information about our projects, products, and services. Photo credit: Jeffrey-Anthony