Project Feature: Cedar Kayak
January 30, 2017
Here at Channel Lumber we are committed to providing the best lumber products and services in our industry. Our customers often have a personal passion for wood working. We're always interested and amazed by the variety of projects that our lumber is used for.
We interviewed Channel Lumber customer Morris H. about the kayak he built with Cedar purchased at Channel Lumber.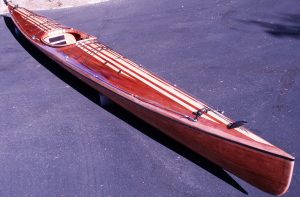 Full view of the finished vessel.[/caption] Q: The Cedar vessel pictured, is it considered a Kayak? A: Yes. It was built from plans which named it after a fast swimming fish called a Wahoo.

Ribs in early phase construction.[/caption] Q: What was your inspiration to build it? A: Kayaks can be purchased, but I like the challenge of building a one-of-a-kind kayak that can be paddled in the rough waters of the San Francisco Bay. I always receive compliments from fellow kayakers and beach walkers. Sometimes I notice drivers on the road turning their head to admire the wooden boat on my car roof.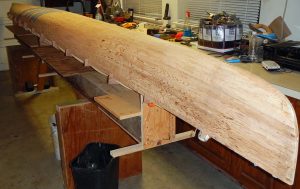 Q: Is this the first boat you have built? Do you have a shop? A: This is my fourth wooden boat. Previous ones were built from plywood
and lack the beautiful curves of the Wahoo
.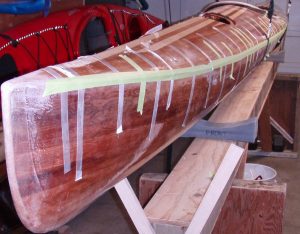 Finishing Q: What other types of wood project have you undertaken? A: I designed and built my house, but I am not a professional in this area. I am currently building a wooden stand-up paddle board using wood from Channel Lumber.
I will send you pictures when I am finished
.

Detail view of the hull.[/caption] Q: Why did you choose Cedar? Is this a common wood used to make vessels of this type? A: Cedar is frequently used for kayaks because of its light weight, workability, availability and resistance to rot. Its color and grain are beautiful. Cedar kayak paddles do not require varnishing, although cedar kayaks are covered in clear fiberglass, epoxy and varnish to add strength, watertightness, and protection from the sun's UV. [caption id="attachment_381" align="aligncenter" width="300"]

Detail view of the deck.[/caption] Q: What type of outing is this vessel best suited for? A: The Wahoo has a narrow, long hull which is ideal for racing. The paddler sits inside while a neoprene skirt keeps water out of the cockpit. The kayak behaves well in rough water, but the paddler needs to have sufficient skills such as rolling back up in the event of a capsize. Q: What is the most adventurous trip you have made with it? A: Paddling in San Francsico Bay, when the wind blows over 20 mph and the waves are 4 ft, offers enough adventurous trips. I have launched from Berkeley to Treasure Island and Ferry Pt in Richmond to Angel Island in these conditions. A quiet day on the Bay might be in the Oakland Estuary or under the Richmond Bridge. [caption id="attachment_382" align="aligncenter" width="300"]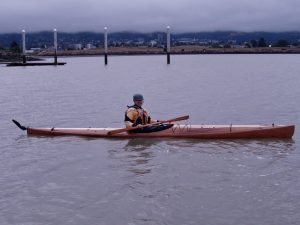 On the water.[/caption] Photo credits: Morris Ho. For more information about our products and services please contact us.